JSC Series Furnace
2200°f (1200°c) Bell / Shuttle Hydrogen Atmosphere Controlled Retort Furnace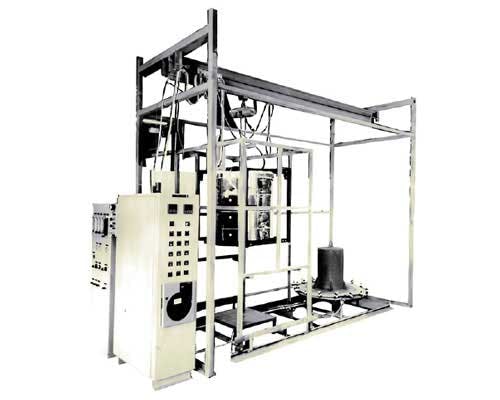 Description:
The JSC Series is an electric Bell/Shuttle Lift furnace with a bell type "top hat" alloy low dew point retort. The system normally includes one plug insulated base, one retort, one furnace, one separate insulated "parking" base, and an overhead hoist and shuttle system. The control system, alloy muffle and flow system are completely integrated as one unified system. Any application requiring 100% hydrogen or a mix of hydrogen, or any other combustible atmosphere (as well as any purely inert atmospheres ) may be used in the JSC Series. Hydrogen brazing and stainless steel annealing and solution treating are typical examples. Any batch process that can not tolerate oxygen or that requires a low dew point is a candidate for this furnace. Maximum temperature is 2200°F (1200°C) although lower maximum temperatures are recommended for long muffle life. The system is ideal for quick cool down under controlled atmosphere conditions. The round retort holds up well to the stress of heating and cooling and is never moved while hot (unlike horizontal retorts taken in and out of a furnace.)
Atmosphere:
Controlled or Hydrogen or Inert or Inert/Combustible
Lining:
Brick w/ Fiber Roof
Our most popular model sizes are listed below. Discuss a custom solution that fits your exact needs by contacting our sales team today.