L&L Special Furnace Co, Inc. has a longstanding reputation for designing special industrial furnaces, ovens, kilns, quench tanks and heat treating systems. Over these decades of design, production and service, L&L has manufactured some of the best heat treating furnaces, ovens and quenching equipment for the industrial and laboratory world.
"Your Thermal Investment Deserves Special Treatment"
EMPLOYEE MILESTONES
This year our Production Manager, Dan Devlin, celebrated his 35th Anniversary and Lisa Lee marked her 15th year with the company.
Our Design Engineer, Dave Cunningham, was named one of Heat Treat Today's Top 40 Under 40 Class of 2019. This list highlights 40 enthusiastic, forward-thinking and skilled professionals who have made a mark on the heat treating industry before their 41st birthday.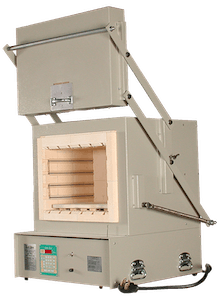 L&L EXHIBITED AT THE 2019 ASM HEAT TREATING SOCIETY CONFERENCE & EXPOSITION
Our Sales Manager, Tom Schultz, and Mechanical and Process Design Engineer, Dave Cunningham, attended the show. They had the opportunity to meet potential new customers as well as existing customers during the event. There were many different furnace manufacturers along with alloy, refractory, control, services and other suppliers of various items used in the heat treating field present this year. The exhibitors were diversified, which made for a very interesting show for both exhibitors and attendees alike.
LARGE ELECTRICAL BOX FURNACE WITH INERT ATMOSPHERE FOR AEROSPACE COMPONENTS
At L&L, we are proud to have supplied over 35 furnaces this year to various industries. Most recently, the furnace pictured to the left shipped to a worldwide leader of high tech aerospace and associated components located in the Southeastern United States. This furnace will be used for processing aerospace parts and other thermal applications.
CUSTOM-DESIGNED FURNACES FOR DIFFERENT INDUSTRIES
Many of our furnaces purchased in the past several years include Retorts for De-Bindering Ceramic Composites. The parts are a ceramic matrix composite (CMC), which is a series of ceramic threads that are bound together and woven by a 3D printing system. These parts can be made into very intricate aircraft subassemblies for the small units as well as large engine parts. (For more information, see our "What Are CMCs?" article.)
UNIQUE DYNAGLOW ELEMENT HOLDERS
The elements are supported in proprietary high-temperature ceramic element holders. These provide perfect support for the coiled element and excellent radiating characteristics. The smooth surface of the holder prevents premature failure of the element as it expands and contracts. These holders, coupled with a unique all-ceramic element terminal, make element replacement easy. Being recessed into the wall of the furnace, the elements are not as susceptible to mechanical damage as they would be in some other types of element support systems.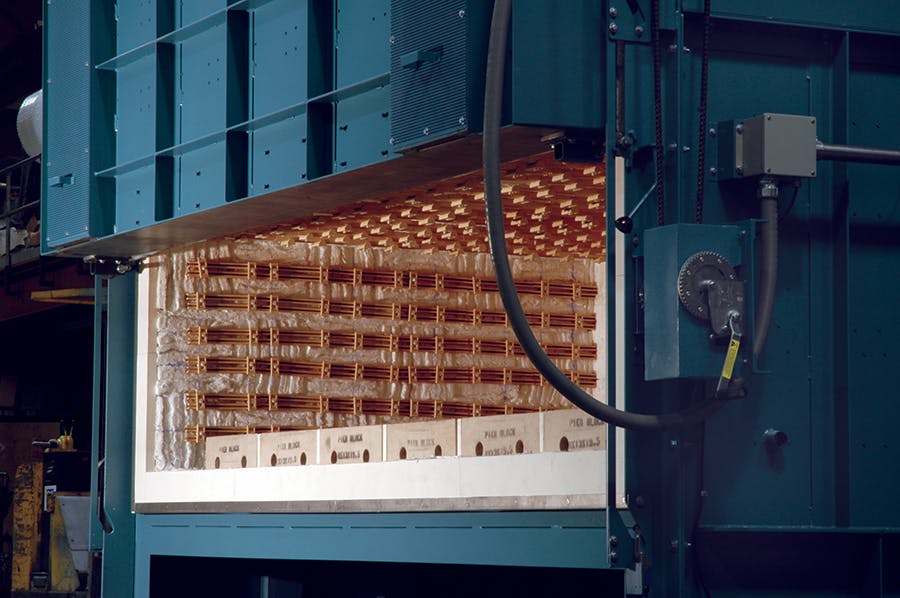 CERAMIC ELEMENT TERMINALS MAKE ELEMENT CONNECTIONS EASY AND TROUBLE FREE
Unique L&L-designed all-ceramic element terminal blocks allow the element ends to be clamped without twisting the whole end around a terminal bolt, making it easy to remove an element. The connection wires can be removed without disturbing the element termination (which allows you to easily isolate an element for a resistance check). The terminal block features superb electrical isolation characteristics.
PRE-SHAPED BRICK SECTIONS SAVE ON HEAT LOSS AND MAINTENANCE COSTS
The refractory is cemented in sections on a very flat table. These sections are then precision cut and routed. All sections fit together with engineered heat locks that improve the insulating integrity of the furnace even after many years of service. Brick sections can easily be installed by in-house maintenance personnel, saving on expensive specialized bricklayer labor.
---
Contact Us
20 Kent Road
Aston, PA 19014