Widely Adaptable for Many Different Thermal Applications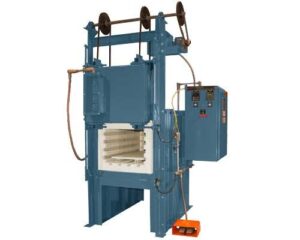 Since making its initial appearance in the early 1980s, L&L Special Furnace Co.'s XLE series floor-standing, front-loading box furnace has been one of the company's bestselling products. The furnace has many features that make it one of the best options in the industry for heat-treating and many other thermal applications.
The immediate predecessor to the XLE Series was the original "Hot Box XL," which brought L&L Manufacturing Co.'s patented dual-groove ceramic holder to the medium-sized box furnace offering. A bit later, the Therma-Pro variation was introduced, which featured a combination of lightweight firebrick and fiber insulation in the roof for larger chamber sizes. The XLE series was unveiled as a combined series of furnaces with a large array of chamber sizes and load capacities, with similar control features. Over time, it has been refined to include all of the latest features, options and components. This has allowed our XLE series furnace to be one of L&L's bestselling units to date.
The XLE series furnace comes in various sizes. The smallest is our standard XLE524, which has working dimensions of 13″ wide by 13″ high by 20″ deep, while the largest is the XLE4080 with working dimensions of 39″ wide by 34″ high by 76″ deep. L&L has many standard sizes to fit most needs. The company also provides custom sizes for customers that require a specific chamber size.
The XLE case is constructed from heavy 10 gauge sheet steel sides with a 3/16″ or thicker bottom support plate. Stiffeners are included for support and structure. The furnace is seam-welded when required for inert atmosphere operation. It is painted with heat-resistant black primer and finished with standard blue machine enamel. All units feature a thermocouple inlet port that is ideal for performing temperature uniformity surveys without having to compromise the door seal.
Insulating firebrick backed with low K-factor mineral board is used for the vertical and bottom walls, and ceramic fiber modules are used where required, especially for the roof. The brick is fabricated as pre-shaped sections that are fitted with engineered heat locks to improve the insulating integrity of the furnace even after many years of service. The insulation combination enables efficient heating with a reasonable cooldown curve. L&L also offers air evacuation units for a quicker or controlled cooldown as required.
The XLE offers two door styles, the first being a horizontal double pivot door that pivots so that the hot face can be directed away from the attendant. More commonly, L&L provides a vertical or guillotine-style door. The vertical door can be manual or operated electrically or pneumatically, either by a foot switch or control-mounted push buttons.
The furnace comes standard with a ceramic cordierite hearth to support parts. Options are available for alloy hearth and roller hearths as required. Silicon carbide offers a more robust hearth with excellent heat transfer qualities.
The furnace is heated with exposed resistance coils that are recessed into the refractory liner. The elements are primarily iron-aluminum chrome with options for nickel chrome for reducing environments, as well as Kanthal APM for special carbon-rich applications.
The elements are supported in proprietary, high-temperature ceramic element holders. These provide perfect support for the coiled element and optimal radiating characteristics. The smooth surface of the holder prevents premature failure of the element as it expands and contracts. These holders coupled with a unique all-ceramic terminal make element replacement easy.
Each element is separately and evenly spaced on the bottom, sides, door and back. This is possibly the finest method of distributing radiant heat energy at high temperatures.
The furnace can be fitted with various style recirculating fans for excellent uniformity at low temperatures. Air-cooled fans can be deployed to temperatures up to 1,875°F and are available in 12″, 14″ and 18″ diameters. L&L also offers water-cooled fans for temperatures up to 2,200°F.
The control system includes a temperature control, an overtemperature system and type K thermocouples. The furnace is powered by solid-state relays or SSR power controls. There are many control and recorder options available. The XLE has door and power panel safety switches, emergency stop and reset, and is built in accordance with NFPA guidelines for safety.
It can accurately control temperatures from 500°F to 2,200°F. Typical uniformity is ±20°F at temperatures above 1,200°F or ±10°F with the use of convection fans. Fan speed control is available to slow down or increase fan speed as required.
The furnace is operated with standard type K thermocouples. Type N, type R, type S and others are available as needed. There are also pyrometry packages available that include reference thermocouple ports and corner locations, as required by the AMS2750 latest revision.
Recorder options are available with paperless chart recorders to record and log all required thermal data. User-friendly jack panels located on the front of the furnace control panel facilitate easy thermocouple hookup.
One of the most common XLE options is sealing the furnace for use with inert atmosphere. The inert atmosphere case is sealed both internally and externally. The furnace is then flooded with inert gas such as nitrogen or argon. This expels most oxygen inside the chamber using a displacement method. The furnace is then run under very slight positive pressure using five to seven volume changes per hour based on the chamber size. This helps the steel form a hard martensite layer, and the parts do not need to be wrapped in stainless steel.
Other common options include a fused disconnect switch, overtemperature protection, a program control, and a paperless chart recorder.
All of these features and options make the XLE the most versatile heat-treating furnace available on the market today.
If precise process control and uniformity is key to your process, then L&L's XLE series is a great choice. Please be sure to visit our website at www.llfurnace.com.