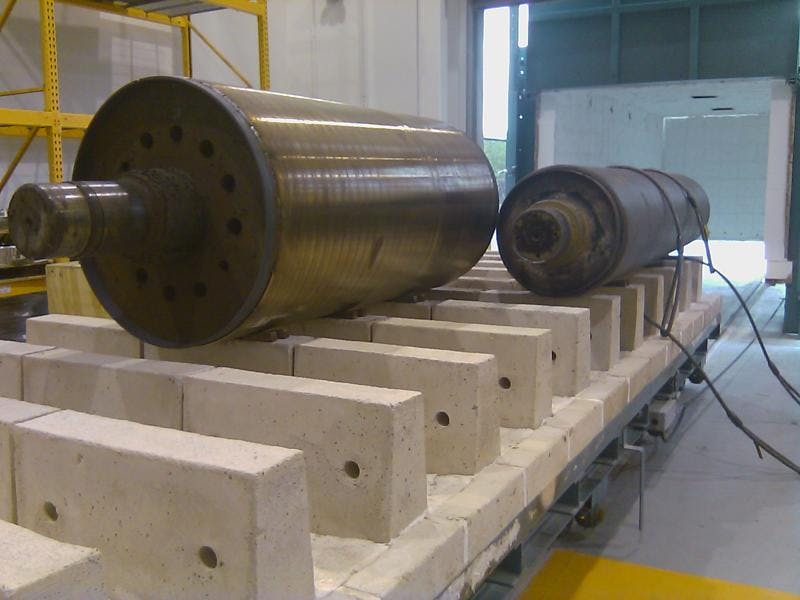 L&L Special Furnace Company has received an order for a large gas-fired, car bottom furnace from a leading manufacturer of specialty alloys, pipes, tubes, and fittings located in the southeastern United States. It is scheduled for delivery in Q4 2021.
The furnace will be used for normalizing various steels and specialty alloys at temperatures up to 2,200°F / 1,200°C. It will also be used to preheat, stress relieve, and temper various steels and large pipe fittings.
The gas-fired furnace utilizes six medium velocity burners that fire over and under the load. The furnace car moves in and out of the unit on supplied railroad-type rails. The door is mounted to the car and is motorized with all required stops and clearances. The side seals are pneumatic and seal to the car's bottom once the car is inside the furnace. Castable piers provide good support for up to a 10,000-pound load. The furnace is completely insulated with ceramic fiber modules.
The control is a floor-standing NEMA12 panel with a fused disconnect at the source. All fusing and interconnections are included. The furnace is controlled by a Eurotherm Nanodac program control with two slave units. Three-zone control is provided to promote uniformity. Overtemperature protection is provided along with a six-input paperless chart recorder and jack panel.
The L&L model FCG4410 has working dimensions of 48" wide by 48" tall by 120" deep. Uniformity of ±25°F / 12.5°C or better is expected throughout the work zone. Complete factory testing and on-site commissioning are included.
All L&L furnaces can be configured with various options and be specifically tailored to meet your thermal needs. The company also offers furnaces equipped with pyrometry packages to meet ASM2750F and soon-to-be-certified MedaCred guidelines.
Options include a variety of control and recorder configurations. A three-day, all-inclusive startup service is provided with each system within the continental US and Canada. International startup and training service is available by factory quote.
If precise temperature control and uniformity are key to your process, then L&L's FCG series is a great choice. Contact us today to learn more about our available furnace lines.